---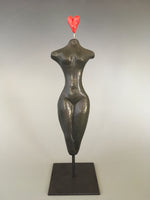 Inspired by Greek relics, this figure expresses the joys of a life full of love. 
For more than three decades, I have been recognized for archetypal figures. My love of these abstract figures took on a new life after a summer trip to Greece in my youth. I was taken by the way museums illuminated the preciousness of each fragment of sculpture by featuring them individually. 
They have since been a continued source of inspiration. Each of my pieces is handmade individually from stoneware clay, and finished with glazes I make myself. Each piece is unique.

Approximately 10"x3"x3"  includes stand